Hidden Hills Club Scratcher Sweepstake Raffle
Try Our New Edibles
SCRATCHER WINNERS WILL RECEIVE A UNIQUE HIDDEN HILLS CLUB MEMBERS CARE PACKAGE AND ENTERED INTO A RAFFLE.
WINNERS MUST SCAN QR CODE ON PACKAGING FOR MAIL-IN REDEMPTION.
PROMOTION VALID 07/24/23 THROUGH 9/15/23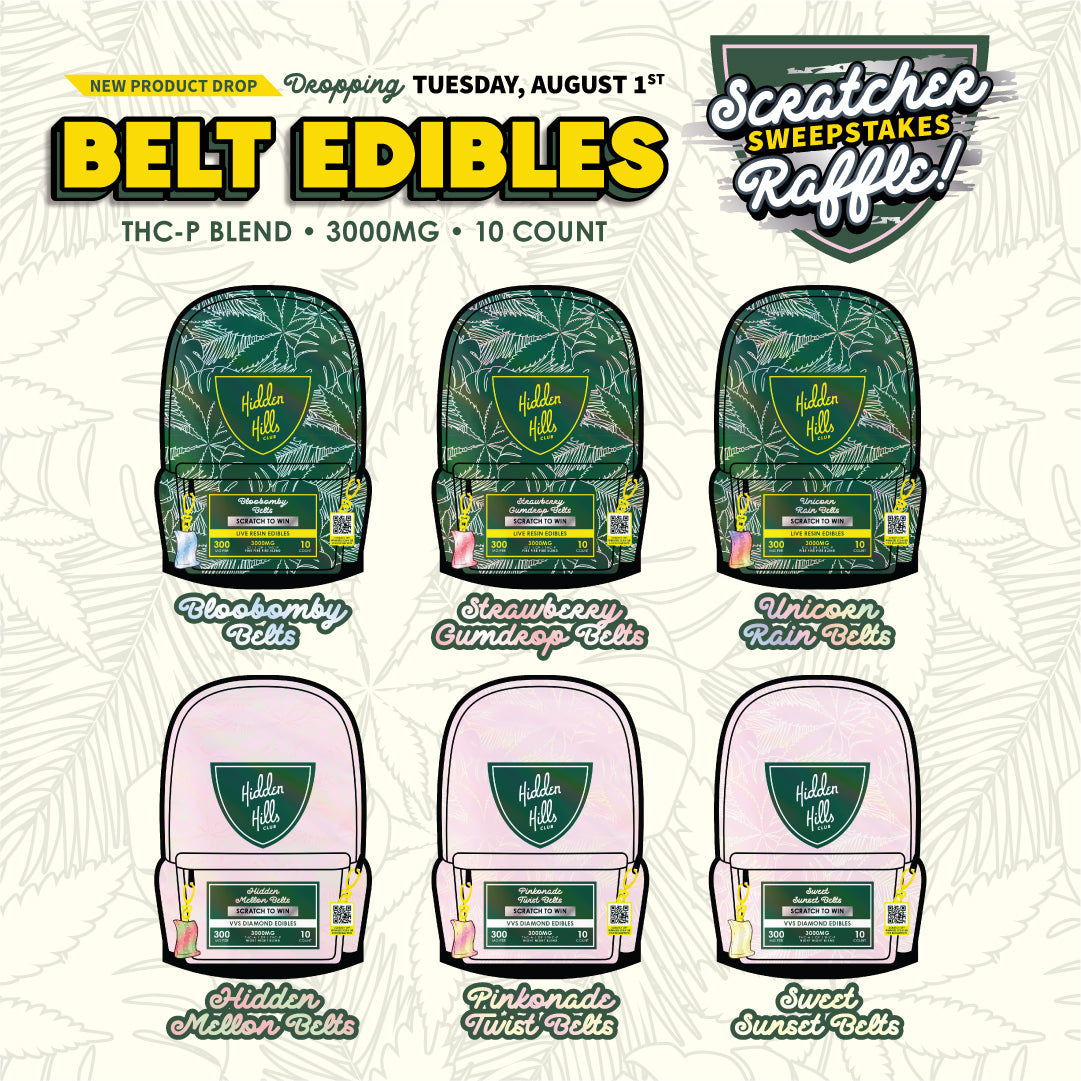 Mail-in product packaging and entry information to:
HIDDEN HILLS CLUB
2781 W MacArthur Blvd, Ste B #341
Santa Ana, CA 92704
Please attach the following information:
Name
Address
Contact Number
Instagram @
Date of Birth
IG DM entry information:
- Send us a video of your winning packaging as an entry through our DM. To uphold integrity in our giveaway when submitting: write your name on the front packaging and cut through written are and scratcher section!
SWEEPSTAKES OR CONTEST ENTRY INSTRUCTIONS: During the Sweepstakes or Contest Period, you may submit one entry only per purchase.

PRIZE: The Prize will be delivered to the winning entrant's address or at the sole option and discretion of the contest sponsor to a recipient designated by the contest winner. Prizes are not transferable and are not redeemable for cash.
Grand prize winnerwill receive 4-night/5-day all-inclusive stay for two in Cabo San Lucas, Mexico. $750 flight voucher for airfare. Exclusive Hidden Hills Club Cabo Welcoming Package. Winner has 30 days to confirm travel dates and prize must be redeemed before 11/30/2023.( Estimated value $2000 )
PARTICIPANT OBLIGATIONS: By participating in the Sweepstakes or Contest, you agree to be bound by these Official Rules and the decisions of Sponsor. By accepting the prize, the winner agrees to release and hold Hidden Hills Club and affiliates harmless from and against any and all losses, damages, rights, claims, actions and liabilities of any kind in connection with the Sweepstakes or Contest or receipt or redemption of the prize. The winner assumes all liability for any injury, death, or damage caused, or allegedly caused, by participating in the Sweepstakes or use or redemption prize.

GENERAL RULES: By entering or participating in the Sweepstakes or Contest, participants agree to be bound by these Official Rules, and by the decisions of Sponsor, which are final and binding in all respects.
Disclaimer: Our recommended dosage is for the average user. Persons sensitive to cannabinoids may feel the adverse side effects warned of on our product packaging, such as dizziness, nausea, drowsiness, disorientation, etc. We recommend new users of cannabinoid products to try only half our recommended dosage, and wait 60 minutes before meeting our recommended product dosage to determine your own sensitivity to edible, cannabinoid products.